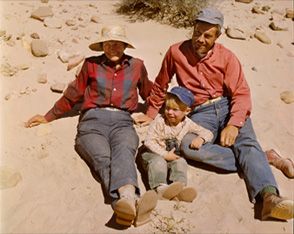 Three Reasons for the Current Renaissance of Interest in Philip Hyde:
1. His vintage photographs, besides artistic acclaim, have historical significance. His photography of Western American landscapes and national treasures such as the Grand Canyon and the California Redwoods were central in the beginnings of modern environmentalism. He was the first photographer sent on assignment for an environmental cause. He also helped first introduce color to landscape photography.
2. His original vintage prints are rare. He printed Dye-Transfer, Cibachrome and Silver Black and White Prints in editions of 2 to 6 prints, whereas for example, Eliot Porter printed over 200 prints of each of his portfolio images.
3. Vintage prints that were lost or long sold out are available again. The new Special Edition Numbered Archival Fine Art Digital Prints were authorized by Philip Hyde. Philip Hyde signed five of the new archival fine art digital prints before he passed on. They are reasonably priced to start, but will go up as they sell, which will also serve to limit the number of archival digital prints made.
Philip Hyde Photography Advocates for the Environment:
1. The photographs will continue to participate in conservation campaigns.
2. Besides financing the preservation of the original film, a portion of proceeds from fine art print sales are set aside to fund clean energy research and other environmental causes.Philip Hyde Photography
+ California + Colorado
Mailing Address: PO Box 761, Boulder, CO 80306